It was an "off" year, some people said, and the crowd would be small.  Continuing Education Units (CEU) were not due until the summer of 2019 for licensed contractors so everyone would wait until NEXT year to get their points.
This was clearly not the case.
In the picture above, a portion of show attendees observe a class on direct push drilling held by Geoprobe Systems®.
The Florida Ground Water Association (FGWA) held their annual convention and trade show at the Caribe Royale Resort last weekend.  With a full slate of training classes, outdoor drill rig exhibits, a Friday Night Reception (co-sponsored by Atlantic Supply and Geoprobe Systems®) and a full exhibit hall, this years FGWA show brought nearly 350 attendees to Orlando for three great days.
Atlantic Supply's booth featured everything from water well supplies to Geoprobe® tooling and consumable products.  And as they did last year, the five-gallon Atlantic Supply buckets went fast!
Many types of drill rigs were on display including the new Drillmax® water well rigs, Geoprobe Systems® machines, Diedrich Drill, and TMG Manufacturing.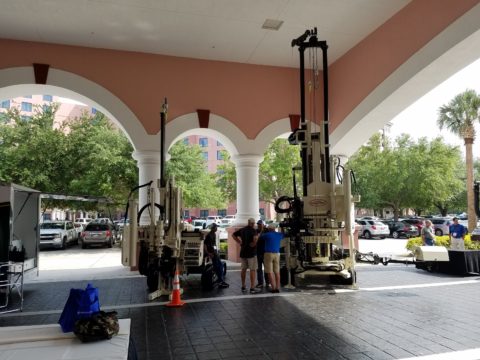 Geoprobe Systems® brought two of their popular, multi-purpose machines, the 3230DT and the 7822DT V3.  Atlantic Supply is an Authorized Tooling and Consumables distributor for Geoprobe Systems® with stock at all five Atlantic Supply stores.
Atlantic Supply again was the proud co-sponsor of the Friday Night Reception with Geoprobe Systems®.  Attendees enjoyed food and drinks as they caught up with old friends, made new ones, and participated in a variety of raffles and auctions.
Saturday morning started with cloudy skies but this did little to dampen the spirits of the attendees who enjoyed a strolling breakfast in the exhibit hall.  More training classes were held as was the general membership meeting.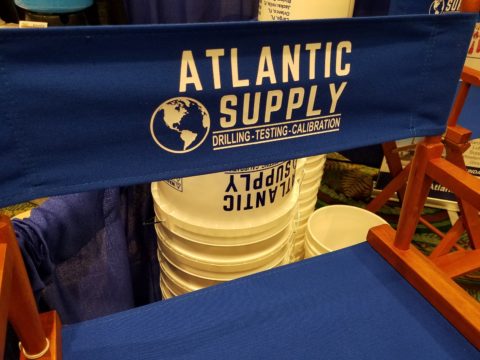 Overall, it was a VERY good show, especially for an "off" year.  Atlantic Supply would like to thank the FGWA for a job well done, our valued vendors that exhibited, and most importantly, our valued customers.
If you would like more information on how Atlantic Supply can serve you, please contact your local store or visit our website at www.AtlanticSupply.com.